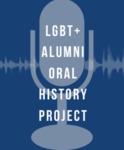 Interviewer
Dalton Parker
Files
Download
Download Audio File (1012.3 MB)
Abstract
In an interview with Dalton Parker on March 29, 2019, Leigh Pourciau Topp discusses her early life, her decision to attend The W, and her experiences while at the school. This interview was conducted as part of the LGBT+ Alumni Oral History Project. This interview has been redacted to protect the names of any third parties whose gender or sexual identity may have been revealed.
Date of Interview
3-29-2019
Length of Interview
1 hour, 32 minutes
Item Type
Audio Recording - Students and Faculty Only
Restrictions of Use
Permission to publish, quote, or reproduce these oral histories must be obtained in writing from the Beulah Culbertson Archives and Special Collections. No use (beyond Fair Use) should be made of the interview without authorization.
Recommended Citation
Topp, Leigh Pourciau, "Interview with Leigh Pourciau Topp" (2019). LGBT+ Alumni Oral History Project. 18.
https://athenacommons.muw.edu/lgbt/18